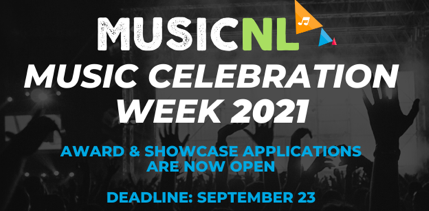 Applications now open for Music Celebration Week!
APPLICATIONS FOR AWARDS & SHOWCASES NOW OPEN
MusicNL awards and showcases provide recognition to well deserving artists and industry professionals in Newfoundland and Labrador. These awards are given out during Music Celebration Week, set to take place the last week of November 2021.

This year's Music Celebration Week will offer a week of increased showcase performances, networking opportunities and an exciting awards show.

IMPORTANT DATES
Applications open August 27, 2021
Applications close September 23, 2021

For more information on how to submit for the MusicNL awards and showcases click here.