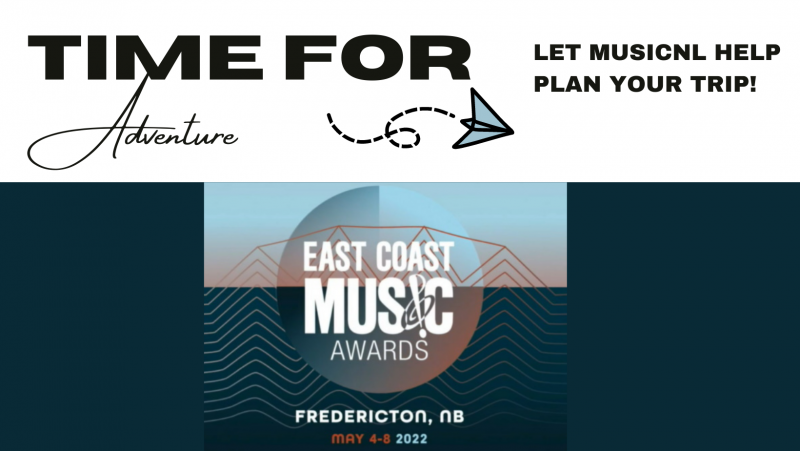 Keep checking this webpage for more details about ECMA travel plans!
Questions?
Email Sarah @ musicnl.ca for all your trip planning needs!
Travel Subsidy!
MusicNL will be offering a travel subsidy for members travelling to the ECMA's in Fredericton. Members will be able to submit travel claims to have up to 50% of eligible travel expenses covered. Please note that the final percentage covered will be determined by the total amount of claims vs. the total budget for the subsidy. Please make sure you keep all receipts.
Eligible expenses include:
Travel costs to, from, and within Fredericton including
Airfare
Ferry fare
Ground transportation
Vehicle rental
Mileage when using a private vehicle – rates click here
Accommodations
Per diems – rates click here
Download the Travel Expense Claim For Here!
Have questions about travel subsidy? Email David @ musicnl.ca
Where to Stay?
The 2022 East Coast Music Awards are being held in Fredericton, NB! We want to be sure you stay where all the actions is.
The Delta Hotel Fredericton is the Host Hotel.
Who to Fly With?
PAL Airlines is proud to partner with MusicNL!
Use the promo code "ECMA" when traveling to the East Coast Music Awards for discounted airfare.
Book now at palairlines.ca or call 1-800-563-2800
TeamNL!
MusicNL is please to represent Newfoundland and Labrador at this year ECMAs. We will be sporting very cool branding!
Get in touch with your ECMA concierge for the latest details: Sarah @musicnl.ca
Schedule
May 5 – 8, 2022
See Full Festival Schedule Here!
See Full Conference Schedule Here!