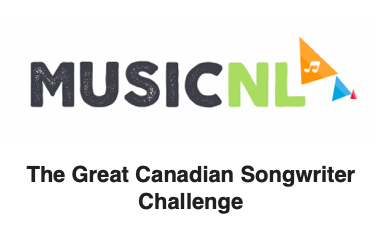 The Great Canadian Songwriter Challenge
The annual Great Canadian Songwriter Challenge presented by Bell Media will take place at the First Light Centre for Performance & Creativity September 25th and 26th.
The Challenge is an opportunity for songwriters across the province of Newfoundland and Labrador to hone their skills via a series of engaging workshops with renowned industry professionals.
The 2021 edition of the Great Canadian Songwriter Challenge welcomes NL song writing powerhouse Peter Daniel Newman as the lead facilitator. MusicNL also welcomes mentors and industry professionals from across the globe including Sacha Visagie, Livy Jeanne, Chris Sligh, Alice Nelson, Mark Caplice, Clare Follett, Lauren Eddy, Vincent Degiorgio, and Margaret McGuffin to the challenge (full bios below).
Aspiring songwriters throughout Newfoundland and Labrador are invited to take part in the 2021 Songwriter Challenge. A panel of judges will review applications, as space is limited.
Deadline to apply is Thursday, September 16th at 11:59pm.
Learn more click here