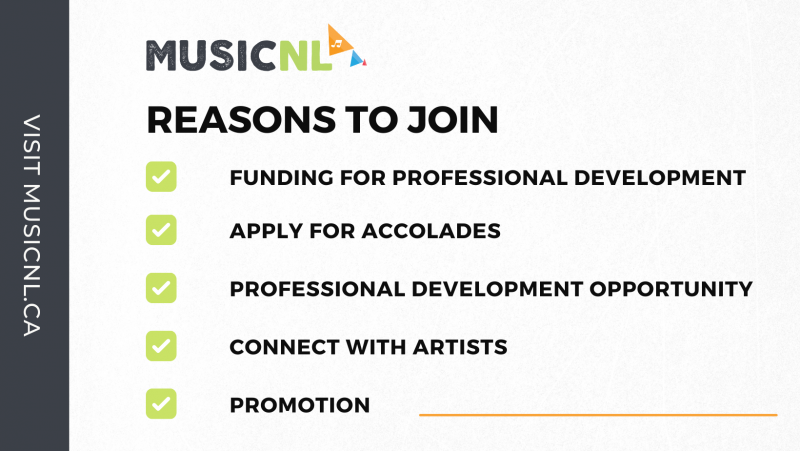 Funding for Professional Development – Keep learning for free. MusicNL provides funding for professional development. Submit your proposal and get funding for your learning. Learn more here!
Apply for Accolades – Get recognition for what you do. MusicNL hosts is own industry awards gala. Apply for our Music Educator of the Year award! See winners from 2022.
Professional Development Opportunities – MusicNL hosts workshops from everything to sampling, marketing, and copyright. Check them out on our events page!
Connect with Artists – Connect with guest speakers, performers, ect. to present to your students to keep them engaged. Go to our member database!
Promotion – Proud of the work your students are doing? Submit your class projects to the MusicNL newsletter! Sign up for the newsletter here.
Become a MusicNL Member for just $25 a year!
BIPOC Classroom Resources
Looking to diversify your lessons? Chanel Rolle and the THE DIVERSITY, EQUITY, AND ANTI-RACISM (DEA) CHAMBER ENSEMBLE has created ready to use lessons! Lessons include: Presentations and resources about BIPOC Composers
The DEA has also provided resources for finding music composed by BIPOC and LGBTQ+ composers! Find the resources and catalogues below.
Have Questions or want to know more? Email Chanel: chanel.k.rolle@gmail.com
---
MusiCounts

#BlackMusicMatters: Hip-Hop & Social Justice in Canada is a listening- and inquiry-based resource designed for teachers with students in grades 7-12. It is intended to be used by educators of various disciplines who wish to explore Black culture, history, and creation, specifically through the lens of hip-hop music. The aim of #BlackMusicMatters is to introduce students to Canadian hip-hop artists and their music, while engaging them in critical inquiry of a variety of social justice themes.
Throughout February 2022, four lessons will be released that explore different hip-hop songs by different Canadian hip-hop artists. These lessons will be released weekly on Tuesdays starting February 1.