MusicNL is proud to partner with the East Coast Music Association (ECMA) and Breaking Down Racial Barriers (BDRB) to announce the remaining sessions in a 4-part roundtable panel discussion on anti-Black racism in Canada's East Coast music and entertainment industry, "Breaking Down Racial Barriers in the East Coast Music Industry: A Four-Part Roundtable Series with Black Music Professionals from Atlantic Canada on anti-Black Racism." Created and facilitated by Canadian music and entertainment mainstays Ian Andre Espinet and David "Click" Cox.
PANEL 1: Friday May 28th 2021 | 1:30pm NDT | VIEW HERE
PANEL 2: Tuesday July 13th 2021 | 1:30pm NDT |Online [Register Here]
PANEL 3: Tuesday August 17th 2021 | 1:30pm NDT | Online [Register Here]
PANEL 4: Tuesday September 14th 2021 | 1:30pm NDT | Online [Register Here]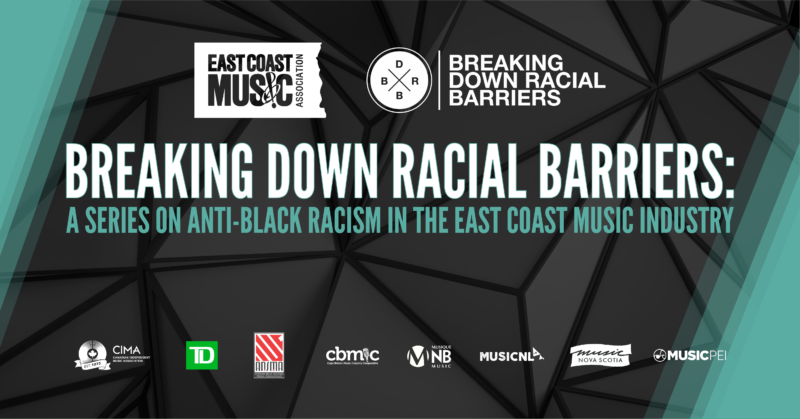 All sessions will be held online via Zoom, and are completely free to attend. For more information or to register for this free series, please visit ECMA.com. #BDRB #ECMA #BDRBDeclaration
This series is presented in partnership with Cape Breton Music Industry Co-Operative (CBMIC), Music/Musique NB, MusicNL, Music Nova Scotia, Music PEI,  alongside founding sponsor, The Canadian Independent Music Association (CIMA) with support from ANSMA (African Nova Scotian Music Association) and TD. 
ASSOCIATIONS AND ORGANISATIONS
Advance Music | Driven by the heart, soul and sounds of Black voices across Canada's music entertainment industry, ADVANCE, Canada's Black Music Business Collective, is leading the change in developing an infrastructure for the betterment, upliftment and retention of Black people in the music business.
Alliance for Equity in the Music Industry | National, non-profit organization that advocate for reform and change in the institutions of policy, governance and funding that support the Canadian music industry. Founded and guided by music industry members, AEMI supports historically disadvantaged, equity-seeking communities including those who are racialized, Indigenous, gender non-conforming, women, and People with Disabilities, by amplifying and holding space for their voices and works, by sharing knowledge, research and analysis, and by encouraging public and industry discourse.
​LIL SIS | Youth Artist Ressource Centre located in Toronto. They host a directory of Black performing artists, producers, instrumentalists, recording engineers and more.
Supports
Creative Sector Solidarity with Black Lives Matter learn more click here