Music has always been a versatile vehicle for the exchange of ideas, the interconnectedness of traditions, the remembrance of stories. Afterall, music brings to life all our memories, beliefs, places and senses of belonging. MusicNL is committed to provide all BIPOC artists the tools they want and need to regain a safe space and equal presence in the music industry.
This section is for all our BIPOC members and those who want to learn more about the diverse paths of music. We have listed our current actions in panels, declarations and concert series. You will find fellow associations who are striving to make space for BIPOC voices and sounds. We have included organizations dedicated to education on identity, inclusion and racial equality as well as resources for wellness and cultural healing.
If you are seeking for any other support, do not hesitate in contacting us!
ACTIONS
MusicNL is proud to partner with the East Coast Music Association (ECMA) and Breaking Down Racial Barriers (BDRB) to announce the remaining sessions in a 4-part roundtable panel discussion on anti-Black racism in Canada's East Coast music and entertainment industry, "Breaking Down Racial Barriers in the East Coast Music Industry: A Four-Part Roundtable Series with Black Music Professionals from Atlantic Canada on anti-Black Racism." Created and facilitated by Canadian music and entertainment mainstays Ian Andre Espinet and David "Click" Cox.
PANEL 1: Friday May 28th 2021 | 1:30pm NDT | VIEW HERE
PANEL 2: Tuesday July 13th 2021 | 1:30pm NDT |Online VIEW HERE
PANEL 3: Tuesday August 17th 2021 | 1:30pm NDT | Online VIEW HERE
PANEL 4: Tuesday September 14th 2021 | 1:30pm NDT | Online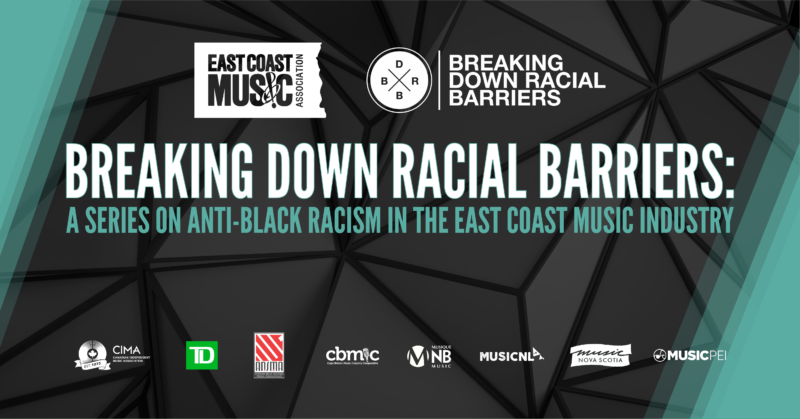 All sessions will be held online via Zoom, and are completely free to attend. For more information or to register for this free series, please visit ECMA.com. #BDRB #ECMA #BDRBDeclaration
This series is presented in partnership with Cape Breton Music Industry Co-Operative (CBMIC), Music/Musique NB, MusicNL, Music Nova Scotia, Music PEI, alongside founding sponsor, The Canadian Independent Music Association (CIMA) with support from ANSMA (African Nova Scotian Music Association) and TD.
ASSOCIATIONS AND ORGANISATIONS
Advance Music | Driven by the heart, soul, and sounds of Black voices across Canada's music entertainment industry, ADVANCE, Canada's Black Music Business Collective, is leading the change in developing an infrastructure for the betterment, upliftment, and retention of Black people in the music business.
Alliance for Equity in the Music Industry | National, non-profit organization that advocates for reform and change in the institutions of policy, governance, and funding that support the Canadian music industry. Founded and guided by music industry members, AEMI supports historically disadvantaged, equity-seeking communities including those who are racialized, Indigenous, gender non-conforming, women, and People with Disabilities, by amplifying and holding space for their voices and works, by sharing knowledge, research, and analysis, and by encouraging public and industry discourse.
​LIL SIS | Youth Artist Ressource Centre located in Toronto. They host a directory of Black performing artists, producers, instrumentalists, recording engineers, and more.
BIPOC of Publishing | a non-profit collective for Black, Indigenous, and people of color currently working in the Canadian book publishing industry.
BIPOC Voices | Ongoing project to build an online, easy-to-use database of works for voice and orchestra or ensemble by BIPOC composers.
Institute for Composer Diversity | The ICD provides databases that allow the musical community to discover works by composers from underrepresented groups. Their analysis studies programming trends to provide evidence on where diverse programming is occurring and where it is needed.
Support
Creative Sector Solidarity with Black Lives Matter. Learn more click here
Healing in Colour | Organization that offers a directory of BIPOC therapists who are committed to supporting BIPOC in all our intersections. By helping to connect the community in this way, they aim to revitalize a legacy of healing, liberation work, and resiliency practices that have been lost/taken.
EDUCATION
Diversity Toolkit | A Guide to Discussing Identity, Power, and Privilege
The Winters Group | 21 days of Diversity, Equity, Inclusion, and Justice
Rachel Ricketts | She is a Black racial justice educator, attorney, speaker, and storyteller. She educates white folx on their role in perpetuating white supremacy, helps BI&PoC and mixed folx heal themselves from internalized oppression, and offers practical solutions for all humans to dismantle white supremacy.
Racial Equity Tools | Organization designed to support individuals and groups working to achieve racial equity. It offers tools, research, tips, curricula, and ideas for people who want to increase their understanding and to help those working for racial justice at every level
COMMUNITIES
Multicultural Women's Association of Newfoundland and Labrador
Chinese Association of Newfoundland and Labrador
Tombolo Multicultural Festival in Newfoundland and Labrador
Nigerian Canadian Association of Newfoundland and Labrador
Hispanic Canadian Heritage Council
South Asian Women Association of Canada
Japanese Canadian Cultural Centre