---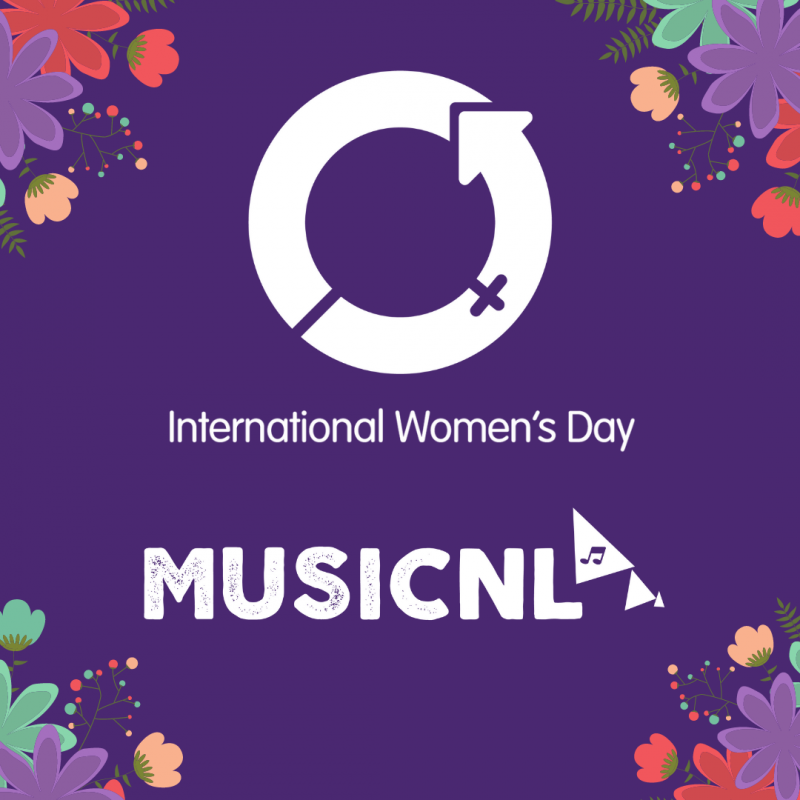 MusicNL is pleased to celebrate International Women's Day 2022 #BreakTheBias!

IWD 2021 Celebrations
To celebrate International Women's Day (IWD) March 8, 2022 MusicNL has compiled a list of some of the talented and successful women artists that inspire with their incredible talent.

MusicNL Celebrates International Women's Day
---
Mallory Johnson
COUNTRY

2017 CCMA Spotlight winner Mallory Johnson, has been turning heads in the country music scene, sharing stages with artists like Carolyn Dawn Johnson, Rascal Flatts, and Blake Shelton to name a few. In May of 2018, Mallory released her debut self-titled EP (produced by Kershaw) which earned her the 2019 ECMA for Country Recording of the Year and 3 MusicNL nominations for Country Artist, Rising Star and Female Artist of the Year. The EP includes songs written by hit-makers Gordie Sampson, Hillary Lindsey, Troy Verges, and Steve McEwan and is "…packed with rollicking guitar solos, heartfelt storytelling, and catchy melodies—all supporting Johnson's voice, a controlled, fierce, and empathetic instrument at the heart of each track" – Melody Lau (SOCAN Magazine).

On September 20th 2019, Mallory released two songs as a digital 45 called a Double Shot(produced by Dustin Olyan). The project includes the single "Drunk Mind, Sober Heart" which was a finalist in the 2019 International Songwriting Competition and nomi-nated for Best Country Song at the 18th Annual Independent Music Awards, and the single "Hungover" which received an honourable mention in the 19th Annual NSAI Song Contest presented by CMT and Martin Guitars and Strings. This project also earned Mallory nominations for Fan's Choice Entertainer and SOCAN Songwriter of the Year at the 2020 MusicNL Awards.

Mallory is currently in Nashville working on a new studio album with Grammy-nominated producer Kent Wells (Dolly Parton).

Take a listen to Mallory's newly released "Wise Woman" with Twin Kennedy available everywhere now.
Mallory Johnson | WEB | SMARTURL | SPOTIFY | FACEBOOK | INSTAGRAM | TWITTER | YOUTUBE
---
Jackie Sullivan
FOLK / ROOTS / SINGER-SONGWRITER

Award-winning singer songwriter Jackie Sullivan hails from Calvert, on the musically rich Southern Shore of Newfoundland & Labrador. In 2002, Jackie released her debut album "Out of the Rain" and was named MusicNL's Female Artist of the Year and the CBC Galaxie Rising Star for her efforts. Sullivan has been featured on numerous compilation albums including Newfoundland Women Sing, Homebrew, Our Songs, Ballads & Beer and the gospel recording In the Palm of Your Hand. She has created her own unique, poignant renditions of RaglanRoad and Saltwater Joys which have garnered much success.
In July 2019, Jackie captivated audiences once again with the release of her highly anticipated sophomore album, "Find Your Light." Known for her quick wit and profound ability to deliver a song, Find Your Light is bursting with emotion and heart and filled with stories of legacy and strength that speak to our culture and unwavering resilience. Co-produced by Billy Sutton, Spencer Crewe and Karla Pilgrim, Find Your Light has captured national and international attention and radio play.
In December 2019, with the help of Nashville grammy-award nominee, Gordon Mote, Jackie recorded an intimate and breathtaking rendition of Joni Mitchell's, River. Her success continuedin January 2020 with the MusicNL award nomination for Folk/Roots Artist of the Year.

Showing no signs of slowing down, in January 2020, Jackie released a brand new single, "Fiery Hockey Blood" featuring the powerhouse vocals of Shanneyganock's Chris Andrews, along with a music video featuring hometown heroes Bob Cole, Ryane Clowe and Andy Sullivan. Penned as a tribute to the legacy of hockey in Newfoundland & Labrador and across the country, Fiery Hockey Blood exudes massive passion and pride and is the perfect tribute to the unifying force that defines our provincial and national identity. It placed #1 on the CIOE East Coast Top 30 two weeks in a row and has recently obtained radio play in Ireland. Jackie continues to write and perform with her duo partner of 19 years, Karla Pilgrim.

Watch Jackie's music video for "Fiery Hockey Blood".
Jackie Sullivan | WEB | SPOTIFY | FACEBOOK | INSTAGRAM | TWITTER | YOUTUBE
---
Carolina East
COUNTRY / GOSPEL / POP

A creation of the maritime elements, Carolina East is a vibrant, bold, songstress from Newfoundland and Labrador. Proudly wearing an eclectic tapestry of musical influences, from soul to country, to pop. In 2020, Carolina East won the MusicNL Country Artist of the Year award, received a nomination for ECMA Indigenous Artist of the Year, and recently joined the Sirius XM Top of the Country competition as one of eight competing semi-finalists. The 2020 summer release of "Soaked in Whisky" and "Hunger," lead the vocal-driven singles to chart on Canadian Country Radio. Carolina East storms into 2021 with the release of her newest single, "All the Things," an emotional ballad that beautifully examines the love and loss of heartbreak.
Carolina East | WEB | SPOTIFY | APLPE MUSIC | SOUNDCLOUD | FACEBOOK | INSTAGRAM | YOUTUBE
---
Karla Pilgrim

Three time MusicNL award winner and two time ECMA nominee, Roddickton, Newfondland and Labrador native Karla Pilgrim has spent the last 15 years winning over audiences from coast to coast. From performing for troops in The Middle East, May of 2007, to opening multiple sold out shows for country music superstar Tim McGraw in August 2015 at the Mile One Stadium in St. Johns, NL, Pilgrim's experience as a performer knows no boundaries. In June of 2009, after years of playing shows, writing and travelling, Pilgrim released her award winning solo album 'I'll Think of You'. Riding the success of her first record Pilgrim was selected to open for Alan Jackson when he rolled through town in August of 2010. She enlisted friends to join her for what would be three unforgettable nights. After rave reviews, they did the only thing that made sense – form a band. Karla Pilgrim, Terri Lynn Eddy and Renée Batten joined forces in 2010 as country vocal trio The Secrets. In July 2012 they set out on a six week cross Canada tour which included stops at Saskatchewan's Ness Creek Folk Festival, Winnipeg Folk Festival, Stan Rogers International Folk Festival, World Pride Festival (Toronto), Harmony Bazaar Festival of Women and Song, Acoustic Maritime Music Festival and Cavendish Beach Music Festival. Following the much anticipated June 8th (2014) release of their Nashville recorded debut album 'Break Even', produced by Peter Daniel Newman, they toured consistently and made multiple trips across Canada and into the US. Riding high on lots of success, their time together would soon come to and end. In 2019 Pilgrim co-produced Jackie Sullivan's critically acclaimed and MusicNL nominated sophomore album 'Find Your Light'. In Jan of 2021 following the departure of Batten, The Secrets decided to close up shop. In fine fashion Pilgrim and Eddy wasted no time and formed a brand new duo and headed into the studio. LadyLike released their new single Princess Charming in May. Karla continues to perform as a solo act as well as with duo partner of 18 years, Jackie Sullivan. 2021 was a very busy year for Pilgrim – hitting the road with Sullivan and recording new music with LadyLike who is just off their debut Tour of Newfoundland and Labrador, as well as making her debut with the Spirit of Newfoundland. 2022 is looking to be off to a promising start with Karla and LadyLike releasing their second single on the heels off a performance with The Newfoundland Symphony Orchestra.
---
Vickie Morgan

Vickie Morgan is a graduate of St. Joseph's College of Maine with a Masters degree in Adult Education and Corporate Training; a BA in Communication and Media Studies from the University of Southern Maine; a diploma from College of the North Atlantic in Business Management Marketing; an associate's degree from the Southern Maine Community College in Psychology and an Honours diploma in Office Administration from Keyin College. And yet, she chooses to make music in Newfoundland.
---
Kathy Stock
FOLK / SINGER-SONGWRITER

Kathy Stock is a MusicNL Award winning singer-songwriter in St. John's, NL. Kathy began her professional music journey in 2009, in Tallahassee, Florida, where she was the weekly feature at Giorgio's Piano Bar. After returning to Newfoundland in 2011, Kathy continued her music career. She has been a musical guest for TEDx St. John's, NY Times Best-Seller, Gabrielle Bernstein, The Hope Ball, RogersTV's Out of the Fog, The Gathering in Burlington, and more. In 2013, Kathy's career was temporarily side-lined when she was diagnosed with stage 2 hodgkin's lymphoma. She has been cancer-free for seven years and is an active member and volunteer within the Young Adult Cancer Canada (YACC) community. Kathy's debut album, Overcome, was released in September, 2019, earning her the distinction of MusicNL's Inspirational Artist of the Year in 2021. Kathy resides in St. John's, NL with her husband, Jason, her two sons, Caden and Preston, and her two cats, Spidercat and Princess Moo-Moo.
Listen to Kathy's song "Time" from her album Overcome available for purchase on her website in CD, Vinyl, and Digital format.

Songwriter pens tune about overcoming adversity, gets cancer six months later. Read CBC article here.
Kathy Stock | WEB | APPLE MUSIC | SPOTIFY | FACEBOOK | INSTAGRAM
---
Ife Alaba
POP / AFRO / CLASSICAL / SINGER-SONGWRITER

Ife Alaba (Born Ifeoluwa Alaba on June 10, 1999) is a Nigerian singer and songwriter. She grew up in South Africa with a strong musical background spanning from being in choirs, orchestras, undergoing opera training, and undertaking the trombone. Ife began her music career after moving to Canada, as a performer at the Memorial University of Newfoundland in 2017. She later released her debut single "All By Myself" in January 2020 to much local acclaim due to its numbing ear runs and bleeding emotion. Her second single, "Go Slow," was released on May 29, 2020, which showcases her unique vocal abilities once more. Her latest song "Vibes"; released on January 29, 2021, emphasizes the experience of loneliness amid a crowd. It also highlights the deepest thoughts one may hide away from the world; the ideas we are too scared to share because we do not want to kill the vibe. She uses life experiences as a muse for her heart-wrenching hooks and creative but subtle melodies while keeping her music relatable and catchy. She is a powerful vocalist whose music style has been influenced by a mixture of pop, afro, and classical music. She has named other artists such as Laura Mvula, Tiwa Savage, Adele, Beyoncé, Nneka, and Andrea Bocelli as artists who have influenced her.
Ife is also one of the stars of CBCNL's web series, STUFFED, a food show following Ife ad her friends as they compare dishes at local restaurants.

Check out Ife's latest jam "VIBES".

Ife Alaba | LINKTREE | SPOTIFY | FACEBOOK | INSTAGRAM
---
Clare Follett
ALTERNATIVE / POP / ROCK / SINGER-SONGWRITER

Clare Follett is a Canadian singer, songwriter, and producer based in St. John's, Newfoundland. Clare broke onto the music scene at a young age, releasing her debut album, "Neck Deep" at 15, and her sophomore album, "Reclamation" at 18. Over the course of her solo career, she has received five MusicNL nominations, one MusicNL award, and four Newfoundland and Labrador Arts & Letters awards for her songwriting. She was also selected as an ECMA Break Out Artist in 2018. Clare has worked with several artists as a producer, side musician, session bassist, and session vocalist. However, Clare shines most brightly as a solo artist. Her music is a compelling mix of light synths, heavy guitars, and thick harmonies that are well suited to the pop, rock, and alternative genres.

Listen to Clare's single "Crashing Cars".
Clare Follett | WEB | APPLE MUSIC | SPOTIFY | FACEBOOK | INSTAGRAM | TWITTER | YOUTUBE
---
Natasha Blackwood
FOLK / JAZZ / TRADITIONAL / SINGER-SONGWRITER

Natasha Blackwood is a composer, producer and multi-instrumentalist based in St. John's, Newfoundland and Labrador. She is known for her role in Jazz East Big Band, as well as ECMA award-winning group Eastern Owl. Natasha's debut solo album, "Ease Back" is a concept album that explores the stages of grief with lush arrangements, thoughtful poetry, and catchy jazz-pop writing. Although the release concert and subsequent shows all had to be cancelled due to COVID-19, the album was released to critical acclaim and community celebration. "Ease Back" went to #1 at Fred's Records, was featured on CBC and CHMR, and received rave reviews. The album earned Blackwood two MusicNL Award Nominations in 2021, including Jazz/Blues artist of the year and Rising Star of the year. Natasha's recent virtual performances include the National Arts Centre's #canadaperforms series, Newfoundland and Labrador Folk Festival, and the 2021 MusicNL Award Show.

Take a listen to "a Boat on the Ocean" from Natasha's album Ease Back.

Physical copies available at Fred's Records.
Natasha Blackwood | WEB | APPLE MUSIC | BANDCAMP | SPOTIFY | FACEBOOK | INSTAGRAM | YOUTUBE
---
Selina Boland
FOLK / GOSPEL / POP / ROOTS / SINGER-SONGWRITER / SOUL / TRADITIONAL

Selina Boland describes her music as "Folk-Pop with a touch of the Atlantic Ocean Breeze". She is a free-spirited, passionate singer/songwriter performing poetic and storytelling songs with her acoustic guitar. Her personal and meaningful songs invite listeners to suspend their realities into her lyrics and haunting melodies. Selina was born in Newfoundland to beloved Lukey's Boat folk singer, the late Laverne Squires. Her musical influences include Traditional Newfoundland, Folk, and 60's Rock. Selina began performing in her teens in the local circuit of St. John's venues and making frequent trips to Woodstock, New York for shows. In 2008, her singles Orphan and Hero were both ranked among the Top Ten Songs in the NL section of the National Songwriting Competition. Orphan also helped raise funds for the Bring Me Hope Foundation for orphans in China. In 2011, Selina released her first EP, Defined is Confined which included the song "A Man Riding a Donkey" and was selected to appear on the iTunes AMAZING Compilation to raise funds for the Canadian Cancer Society. Selina was nominated for awards by MusicNL for Female Artist of the Year and Pop/Rock Recording of the Year in 2015 for her second EP, Second Chances and was one of five artists selected for a live interview/performance at CBC's "Wake up the ECMAs." She kicked off her cross Canada tour playing stages at the East Coast Music Week and ended the tour back in Newfoundland at the Annual Brigus Blueberry Folk Festival and Squidfest to open for Juno-nominated roots band The Once, Sherman Downey, Shanneyganock, and The Masterless Men. Over the next few years, Selina ventured to Europe and back; sharing stages with musicians in Ireland, Scotland, Netherlands, Germany, Denmark, and Switzerland. She was also invited to Örebro, Sweden in Fall, 2018 where she performed at Live at Heart Festival and has since been invited back. On Feb 22nd, 2019 Selina released her third album, The Cold and promoted it across western Canada opening for Port Cities in Calgary then travelling to Europe for more shows. When returned, she was nominated by MusicNL for Inspirational Artist of the year. Selina is currently in Newfoundland playing regular shows working on new releases. She released a new album in Jan, 2022 called My Chalk Stuff for her solo electronic project Chalk, which was also nominated for Electronic Artist of the Year by MusicNL in Dec, 2020.
Selina Boland| BANDCAMP | SPOTIFY | FACEBOOK
---
Cara Howell – Opera on the Avalon
PERFORMING ARTS ORGANIZATION

Opera on the Avalon is one of Canada's most innovative and ambitious professional arts organizations. Presenting and producing more than 10 years of dynamic and innovative programming, OOTA is one of Atlantic Canada's largest employers of artists, musicians, technicians, and designers, with over 300 professionals employed each season.
Rosemary Lawton
CELTIC / CLASSICAL / COUNTRY / FOLK / INDIE / ROOTS / SINGER-SONGWRITER / TRADITIONAL

Rosemary Lawton is an award-winning Newfoundland traditional artist with formal training in classical violin, and has completed her degree in Music Education. She is a passionate advocate of women's issues and champions the advancement of women in the music industry through her work.

Listen to Rosemary's song "A Man in Love".
Physical copies can be purchased at O'Brien's, Fred's Records, and the Citadel House.
Rosemary Lawton | WEB | APPLE MUSIC | SPOTIFY | DEEZER | FACEBOOK | INSTAGRAM | TWITTER | YOUTUBE
---
Lauren Eddy
ALTERNATIVE / ROCK / SINGER-SONGWRITER

Lauren Eddy is a singer, songwriter, and sound technician from Bonavista, NL. Lauren's current focus, is Saint Scarlett. Her original pop rock project with musical partner, Derek Graham.The group released their six song debut EP in January 2020 and were recently nominated for two MusicNL awards.

Check out Saint Scarlett's song "Phoenix".

CD's are available at Fred's Records (& via the band directly).
Lauren Eddy | WEB | APPLE MUSIC | SPOTIFY | FACEBOOK | INSTAGRAM | TWITTER
---
Kirsten Rodden-clarke
FOLK / POP / AMERICANA

Kirsten has been a part of the duo Quote the Raven for nearly 10 years, written with songwriters across Canada, performed in musicals, lended her voice to some amazing projects, and performed alongside incredibly talented musicians.

Quote the Raven have reached over 650,000 streams, been added to official playlists on both Spotify and Apple Music, and earned showcases and award nominations at the East Coast Music Awards. They've performed at the 2019 AmericanaFest in Nashville, been featured regularly on Stingray's Folk Roots channel, charted on the Canadian Country top 100 and received multiple sync placements, including the CityTV drama "The Wedding Planners".

Music Newfoundland & Labrador's 2019 Group of the Year have embarked on a whopping five tours of Eastern Canada, mapped out a Home Routes trek of Western Canada and performed at the legendary Lunenburg Folk Harbour Festival.
Listen to Quote the Raven's new single "Home is Worth the Blues".
Kirsten Rodden-clarke | WEB | SONGWHIP| APPLE MUSIC | SPOTIFY | SOUNDCLOUD | CDBABY | FACEBOOK | INSTAGRAM | TWITTER | YOUTUBE
---
Rhonda Blundon

Born in Musgravetown, Newfoundland and married with 2 children that are my world. Released my debut album in 2013 (Memories That Last) with 10 songs in which 7 are my originals. Later releasing my second in 2016 (My Treasures). This album consists of 12 original songs. Both cds were recorded at Sevenview Studios in Springdale, NL.
---
Kyla Tilley
SINGER-SONGWRITER

Kyla Tilley is a Canadian singer-songwriter known for her intimate and emotionally turbulent live performances, her gymnastic guitar playing, and her fabulous shoe collection. Musically, her songs are heavily coloured by a youth spent playing the classical guitar, singing Celtic songs, and listening to prog-rock. Lyrically, Kyla Tilley can and will write about absolutely anything from dishes, or the lives of birds and bees, to existential crises and obscure post-apocalyptic 80s film. Kyla's live audiences are made to feel like guests of honour as she treats them to an array of alluring melodies, dissonant harmonies, and dynamic rhythms while regaling them with tales true and tall of fantastic exploits, mundane tasks, and moderate misadventure. Kyla Tilley currently lives in Newfoundland & Labrador where she can be found writing songs live on Twitch, and working on her second full length album, Bloom & Grow. A mercurial collection of songs about personal growth, self-acceptance, and the obstacles that get in the way of an individual's quest for greatness.
---
Rozalind MacPhail
FOLK / ELECTRONIC / SINGER-SONGWRITER

It's easy to fall for the eclectic sounds of this creative mastermind, and you will probably get lost in your imagination while falling." (Rock Eden Magazine) Rozalind MacPhail is a St. John's-based performer, songwriter, film composer and inspirational speaker. A classically-trained flutist, MacPhail layers moody vocals, electrifying flute loops and driving electronics through her effects pedals and the digital audio workstation, Ableton Live. She explores new ways of combining image, inspiration and sound in audio-visual works that speak honestly of people, place and the human experience. One of the world's most buzzed-about Gemeinhardt artists, MacPhail has received multiple honours and awards including an East Coast Music Award for Electronic Recording of the Year and MusicNL's Female Artist of the Year. She's currently showcasing her genre-breaking keynote concert, INSPIRATION SOUP and recording a new album.
Rozalind MacPhail | WEB | SPOTIFY | FACEBOOK | INSTAGRAM | TWITTER | YOUTUBE
---
Korona Brophy
CELTIC

Korona Brophy, a multi-instrumentalist, Mount Pearl woman taught music in Newfoundland and Labrador's school system for 30 years and at Memorial University for more than a decade. 
Brophy is also a member of the ensemble group the Celtic Fiddlers, which she founded in 1993.
Her solo album, Heart to Heart, is dedicated to her four grandchildren. The 13 tracks on the mostly instrumental album include tunes she learned from her parents and some that she taught, including Let Me Fish off Cape St. Mary's by Otto Kelland and Let it Be by the Beatles.  
---
Virginia Fudge
ALTERNATIVE / ELECTRONIC / ALT ROCK / INDIE / POP / SINGER-SONGWRITER

Virginia Fudge is a St John's based singer-songwriter who writes pop songs with elements of grunge, art rock or folk. Musicnl funded for her debut album "Weep to Shine," her new EP will hit streaming platforms on March 12th 2021 during International Women's week. Performed and produced in its entirety by Virginia and Meg Warren, ALL THESE LITTLE GAMES is high on vibes.
Check out it's second release "Dragonfly" on Spotify's "Indie All Stars" playlist. Virginia holds collaboration in high priority and loves to co-write. Two of her songs have been listed as semi-finalists in international songwriting competitions and "Hope to Bring" (performed by Rachel Cousins) was featured on Canadian television drama "The Wedding Planners." Virginia wears a lot of hats and when she isn't making music, she can be found teaching kindergarten, taking care of her daughter and three step-daughters, and trying to make time for everything else.

Listen to Virginia's latest single "Dragonfly".
Virginia Fudge | WEB | LINKTREE | SPOTIFY | FACEBOOK | INSTAGRAM | TWITTER
---
Elizabeth Sheppard

"I am a Mi'kmaw singer-songwriter originally from Corner Brook, living in St John's. Music has always been a central part of my identity, but at long last I've achieved a life goal to release my own music. I write music from within a folk-rock genre that even my teenage sons think is cool."
Abigale
COUNTRY

As Dylan said the times they are a-changing. And in this weird world of ours, Abigale finds herself writing and demoing songs for her second album. What else is an artist to do after all? Her first record Country True gained her a nomination for MUSIC NL Country Artist Of The Year and had serious chart success including going Number One on She Wolf Radio. To list Abigale's personal highlights would turn this bio into a full-length novel. "It's just been a blast from hanging out with Tim Hicks to jamming with the Old Contemporaries and headlining Friday night at The Gathering Festivals. It's just cool", she says, "Putting my music out there feels like it allowed me to grow up fast as an artist"
She grew up in Hodge's Cove, Newfoundland, a population of 200 souls. For Abigale, there is the closeness of the community and the constancy of the sea. And self-entertaining. Performing at every event in town, writing songs and singing harmonies with little sister Jordyn. Weekends are filled with travelling to St. John's. She has been part of Young Folk At the Hall, the Newfoundland Folk Festival, the Harbourfront Concert Series, and Sing Nl. Abigale's life is a family affair loading into the truck for long drives in unpredictable weather
While the influence of the old school country remains, Abigale finds herself spreading her wings in the writing for the new album. "I love songs with a gospel or blues vibe. I think that's part of the roots of Country. And some raw blues-rock guitar hooks give me energy as a singer. " Once again she is focused on stories that touch her real life. "Hey, I was 13 or 14 when I started working on Country True. In kid years that's a century ago so I feel I am entitled to make music about relationships and hopes and dreams in a very different way now." says the 16-year-old. And all the shows and studio time have gotten Abigale in touch with her voice on a new level allowing her to take more chances and work at a new edgy level.
Still, everything old is new again. And great songs and unique tones never get old. Music is still Abigale's journey, destination anywhere.
Take a listen to Abigale's latest single "Round the Bay".
Abigale | WEB | APPLE MUSIC | SPOTIFY | BANDCAMP | FACEBOOK | INSTAGRAM | TWITTER | YOUTUBE
---
Ana Luísa Ramos
BRAZILIAN MUSIC / ALTERNATIVE / SINGER-SONGWRITER

2021 Music NL Jazz Award recipient Ana Luísa Ramos is a Brazilian singer-songwriter based in St. John's, Newfoundland and Labrador. Ana draws inspiration from Brazilian Bossa Nova and popular music as well as the Jazz greatest. Throughout her career, Ana has recorded over 15 albums for different projects from different genres, including folk-rock, samba, jazz, classical, and opera. Born in Ribeirão Preto, Brazil, Ana started singing as a child in Cia Minaz Children´s Choir and had her debut with the Ribeirão Preto Symphonic Orchestra´s presentation of "Gloria" by Vivaldi. She has also been featured in "The Magic Flute" (Mozart) as Queen of the Night, "La Traviata" (Verdi), "Il Pagliacci" (Leoncavallo), "Carmina Burana" (Carl Orff), as well as in the musicals "Hair" (McDermot) and "A Ópera do Malandro" (Chico Buarque) as Teresinha. Ana Luisa joined the São Paulo State Youth Choir in 2007 and, in 2009 was the winner of the Concurso Jovens Talentos (Young Talents Contest) in the Eleazar de Carvalho Music Festival. In 2016 Ana released her first solo album, entitled "Um," which features original material and covers of traditional Brazilian songs as well as a Gershwin brothers Standard Jazz. The album received very positive reviews in Brazilian alternative media and earned her several interviews and performances on Brazilian TV. Ana´s music has taken her to different parts of the world, including Uruguay, Argentina, and Panamá. With her duo Ana & Eric, Ana has toured Portugal twice and played in Denmark, Austria, and Scotland (Iona Village Hall Music Festival). Since moving to Canada in late 2019, the duo has performed in several festivals and conferences. In 2021, Ana & Eric played at the NLFolk Festival, Tombolo Multicultural Festival, and showcased at the 2021 ECMAs, Live at Heart Newfoundland, Live at Heart Sweden, ASEAN Music Showcase Festival (Southeast Asia). After moving to Newfoundland & Labrador, Ana signed with the local label The Citadel House. In 2021 she released her single "Céu Azul" which has been played on different local radio stations as well as CBC Music and CBC Newfoundland & Labrador. Her sophomore album "Amanheceu has earned her the Jazz Artist of the Year award and a nomination for Global Artist of the Year at the 2021 MusicNL Awards," and is available on all streaming platforms. "Amanheceu" will be physically released on Vinyl in early 2022.
Ana Luísa Ramos | WEB | APPLE MUSIC | SPOTIFY | BANDCAMP | SOUNDCLOUD | FACEBOOK | INSTAGRAM | YOUTUBE
---
Jayne Batstone
ROCK / SINGER-SONGWRITER

Jayne Batstone (vocals, ukulele, guitar, piano) is an emerging singer/song writer from St. John's NL, who regardless of any more of Mother Nature's curve balls, definitely plans to graduate from high school in June 2021!! Her performance of acoustic music has been described as "smooth and haunting" underlined by a "quiet confidence".
Jayne has spent her COVID Quarantine(s) writing and recording her debut EP "Line Art" set for release in Spring 2021. She is more grateful than ever for the unending support of our own NL arts community and is committed to following the example of her mentors who generously lift people up and help each other out.

Listen to Jayne's first single "Teenagers".
Jayne Batstone | WEB | SOUNDCLOUD | FACEBOOK | INSTAGRAM
---
Tiffany George
Tiffanie George is a singer, a songwriter, a multi-instrumentalist and is a member of folk duo, The Dandelion Few and spends a great deal of her time with her nose in a book, putting pen to paper and being thoroughly covered in her cat's fur.
Jing Xia

Jing Xia is a professional zheng artist and scholar based in Newfoundland, Canada. Born and raised in Hunan, China, Xia started to study the instrument at six years old. She has a bachelor's degree in music performance and a master's degree in arts management. Xia's music has no boundaries. As a young performer of all styles, she has been playing the zheng in forms ranging from traditional, folk to intercultural, improvisational, and beyond. Xia has played with various musicians and musical groups, including renowned zheng artist Mei Han, multi-instrumentalist and composer Paul Bendzsa, Newfoundland trad-rock band Shanneyganock, and Vancouver Intercultural Orchestra. Xia has been active in the musical scenes in North America and performed in diverse musical events, including Newfoundland Folk Festival, Nashville Chinese New Year Festival, and Vancouver International Jazz Festival. Moving her tradition into the future, Xia funded the Light Wind Ensemble, the first Chinese ensemble in Newfoundland, with a repertoire ranging from Chinese classics to free improv and computer music. As a PhD candidate, Xia has focused her research on the diasporic experience of professional Chinese instrumentalists and their intercultural and transnational music-making in North America. Xia has given numerous lectures and workshops at universities and conferences around the world.
---
Mel Simmonds

Mel Simmonds is a business woman, CEO of her two founded companies, KETO NEWF & The SHED Powerhouse Inc. She's also professional marketeer, Canada's Official Rep for ISSA ( Independant Singers and Songwriters Association) and Radio Personality for FRH Radio in UK and MFN Radio broadcasting from Conne River, NL Hers has not been a glorious road. Medical issues prevented her from losing weight, she had six children in an abusive marriage, and this led her to being over 400 pounds. Mel decided the way out of her situation was to focus on positivity and helping others. 2012 She look the bull by the horns and left her first husband, months later she began talking online with country singer, Brad Simmonds. They were friends for six months before they finally met. When Brad sent her a Cover of a Blue Rodeo song, Mel says she knew "That was it!" By the end of the next work day, Brad was on her doorstep and they haven't been apart since. Mel has been a huge supporter in her new husbands music career and together the two of them worked hard to get Brad in the eye of the public. In 2018, Mel decided she needed to get healthy, she began using Keto products. She lost 110 pounds in her first year. Then she began substituting good ingredients for 'bad' ones in family recipes and lost 120 pounds in her second year. After posting pictures of meals she cooked to her support group of family and friends, the group grew to 1800 people. She was inundated with requests to sell Keto meals. That's when she became Keto Newf. Brad, built her an industrial kitchen and Keto NewfS was born. As other people slowed down and hid away during Covid, she, Brad & the kids drove between St Johns and Grand Falls/Windsor delivering her products. Helping people to become healthy, Mind, Body and Spirit. Brad and Mel also had a home studio constructed where they entertained and started working on their original music. Mel discovered her talent for songwriting in 2019 on a work trip in Nashville, which became a new way to focus on the positives and let go of her PTSD. Her background as an advertiser and promoter helped her develop both her businesses and her songwriting, and she became Brad Simmonds' manager. Mels original songs are being heard all over the world and she continues to co-write with artist globally! Future plans include franchising KETO NEWF so her meal boxes are delivered world wide as she develops her exciting music career and strives to make changes within the Music Industry! Mel is on a mission & is Definitely "One To Watch' as she changes on soul at a time.
---
Melanie O'Brien
POP / FOLK / SINGER-SONGWRITER

Melanie O'Brien is a performer, singer/songwriter and teacher from St. John's, Newfoundland. She is a Sheridan College Honours Graduate and scholarship recipient. Melanie has worked with many theatre companies at home and in Ontario such as Canada's Wonderland, TaDa Productions, The Sprit of Newfoundland and more. Melanie released her debut album of original music in 2016 titled, Shining in the Blue. Melanie was subsequently nominated for MusicNL's Female Artist of the year and Rising Star. In 2018 Melanie released two more singles and toured her music all across Newfoundland and Atlantic Canada. Melanie has operated her own vocal coaching studio since 2009 and in 2017 was awarded MusicNL's Educator of the year. She is also part of the stylized duo, The Duds with Philip Goodridge and they have just released their debut album, These Words I Can't Forget available on streaming platforms along with her other works. Melanie is currently working as a resident artist with Terra Bruce Productions.

Check out Melanie's track "Stubborn Heart".
Melanie O'Brien | WEB | APPLE MUSIC | AMAZON MUSIC | SPOTIFY | DEEZER | SOUNDCLOUD | FACEBOOK | INSTAGRAM | YOUTUBE
---
Lorna Lovell
COUNTRY / POP

Lorna Lovell is an Indigenous Singer/Songwriter based in Corner Brook, NL, and has delighted audiences at seasoned venues like the Trails Tales Tunes Festival and Writers at Woody Point. She has been a guest performer on both Village Beat and Local Sounds on Rogers TV, and her co-write with Rachel Cousins and Virginia Fudge, "Hope to Bring", was recorded by Rachel and subsequently placed in the Citytv series, "The Wedding Planners".
Years of writing and performing have helped develop her unique melodic style, although fans often say she captures the spirit of old time Classic Country. Her debut Contemporary Country album, "Whenever I Sing", features 10 of Lorna's original songs, was produced by Clint Curtis at Sevenview Studios & released February 28, 2020. With its hints of Pop, Rock and Blues, the album is emotionally charged, entertaining, and sprinkled with her charm & humour.
With two 2020 MusicNL Award nominations under her belt, Lorna is forging ahead despite having suffered numerous cancellations due to the pandemic. Her first single, "Island Girl", is a regular on radio stations across the Province and around the world, garnering fans from as far away as France & Japan! In order to build a bridge between her & her fans and to give people something to look forward to, Lorna created & delivered the "A Song A Day" Challenge by performing at least one song per day for two weeks which was LIVE streamed from Facebook. Always writing, Lorna's next single is in production and she is currently working on a variety of other music video, radio & LIVE stream projects. She has just accepted the position of Singing & Drumming Leader with Northshore Aboriginal Group to facilitate cultural education through teaching traditional Mi'kmaq drumming and singing.

Listen to Lorna's song "Island Girl".
Lorna Lovell | SPOTIFY | AMAZON MUSIC | APPLE MUSIC | FACEBOOK | INSTAGRAM | YOUTUBE
---
Michelle LaCour
PRODUCER

Michelle LaCour is an ECMA and MusicNL award-nominated audio engineer in St. John's, Newfoundland & Labrador. After earning a Bachelor of Music in piano and historical musicology from Memorial University of Newfoundland, she went on to complete a Masters of Music in sound recording at McGill University, where she worked as an audio engineer and as a camera operator and director for the Schulich School of Music webcast series. Michelle has worked as a recording, mixing, and mastering engineer for classical and jazz ensembles, folk and pop acts, rock bands, and electronic artists. She has worked as a videographer, producer, and livestream engineer; as a live sound engineer at venues across Eastern Canada; and has held Technical Director roles for various festivals and conferences including the Sound Symposium, Lawnya Vawnya, the Tuckamore Festival, and the 21st Century Guitar. She has worked on a number of films and theatrical productions as a sound designer and composer, and her work as a location sound recordist has taken her all over our beautiful province. Michelle is also an educator, mentoring emerging audio engineers and giving workshops on topics such as location sound recording; music recording, mixing, and mastering; and videography.
---
Nancy Hynes
FOLK / ROOTS

Nancy Hynes learned to sing full songs before she could speak a full sentence! Singing hymns with her mom at a young age taught her how to harmonize and instilled a deep love of music. Her voice can be heard on most of Ian Foster's catalogue as well as countless albums from NL where she lends and blends her voice with some of the province's best singers. She teamed up with long-time partner in life and song, Ian Foster, in 2018 to release "A Week in December" – a seasonal album – which garnered them both a MusicNL and ECMA award for Inspirational Album of the Year.
Watch the video for the new single "The Voyager" from Ian Foster featuring Nancy Hynes.
Nancy Hynes | APPLE MUSIC | SPOTIFY | BANDCAMP | INSTAGRAM |TWITTER | YOUTUBE
---
Paige Penney
COUNTRY / FOLK / POP / SINGER-SONGWRITER

Paige Penney is a singer songwriter from St.John's, Newfoundland. Paige received a Canadian Folk Music Award nomination for "Young Performer of the Year" & two MusicNL Award nominations, "Fan's Choice Entertainer of the Year" and "Pop Artist of the Year" for her Factor funded debut EP "Watch Out For Your Step" recorded in Nashville's Dark Horse Recording studio! She is a two time winner of the MusicNL Newfound talent contest and won an Arts and Letters award for her original song "Natural Disaster". Paige's first single and title track "Watch Out For Your Step" features Newfoundland folk trio The Once. Paige's second single "Shooting Star" features a co-write with Alan Doyle and Doyle is featured in the music video, directed by Roger Maunder. Paige released a pandemic inspired song, "When All Is Said and Done" Summer 2020 and Christmas 2020 released her new Christmas single + music video "One Star".
Paige Penney | WEB | HEAR NOW | SPOTIFY | FACEBOOK | INSTAGRAM | TWITTER | YOUTUBE
---
Rachel Cousins
FOLK / INDIE / POP / SINGER-SONGWRITER

Writing the Rachel Cousins story is easy. It's happening right now, one composition at a time. A performer of extraordinary ability with a haunting voice, she made her debut in her teens with guitar based, folk-esque original songs written with legends on her home base of Newfoundland. Her songs continue to place on a top 100 East Coast music list. In 2020 two songs were included, one at #2 and one at #12.
Rachel was nominated for two Music NL awards, for Female Artist of the Year and its Rising Star prize. It became the catalyst for her exploring other genres. organization led to the composition 'Let Go' was the first song signed to Cymba Music Publishing , this led to a complete publishing deal for her. Quickly, "Let Go" became a lightning rod for the synchronization world, being placed three times in global shows such as "Wynonna Earp" and CBC's "Hudson". It also appeared in the made for TV movie, "The Art Of Falling In Love".
She was commissioned to work with Stella's Circle Inclusion Choir and to write a song for the choir. It was a project of diversity and inclusion and one of the biggest highlight of her career.
In 2019, her eponymously titled pop EP led to features on Canada's national CBC Network. Rachel returned to her acoustic roots with "Hope To Bring", driven by Rachel's emotive tone. "Hope" became an anchor of the show "Wedding Planners", the success Canadian series. The project was capped with an East Coast Music Association (ECMA) award nomination for Best Pop Recording. This Ep most recently nominated for 4 Music NL awards.
'Arrow of Love" from her debut album has been selected for print with Hal Leonard under the prestigious "Henry Leck, Creating Artistry" series. This honor will make her and her co writer the only Newfoundland artist to be featured in Hal Leonard. She recently completed a colab project with Alan Doyle, The Ennis Sisters, Fortunate ones and The once. Rachel, having just won the Music NL award for Pop Artist Of the Year is currently working on a new album for 2021. There's a reason they call her "A Girl On Fire".

Listen to Rachel's song "Hope to Bring".
Rachel Cousins | WEB | APPLE MUSIC | SPOTIFY | FACEBOOK | INSTAGRAM | TWITTER | YOUTUBE
---
Dolly Dunn
COUNTRY / GOSPEL / FOLK / SINGER-SONGWRITER

Dolly Dunn is an International Country/Gospel/Folk Singer/Songwriter, Entertainer and Producer. Dolly was born in a small town in Newfoundland Canada, Boyd's Cove, to two Irish Newfoundland parents and her father played the Accordion so her love of Irish and Celtic music played a big role in her music journey. She left home when she was 21 and moved to Alberta Canada where she spent 32 years of her life before moving to NB in August of 2018. Her first recording was a song titled Cherokee Rose, that when released of August 2015. It hit the charts and within a week of the release it reached the International and European Charts at Number 1 and stayed there for 6 weeks. Not only did the song reach Number 1 but also her Self Titled Album Cherokee Rose also went to number 1, and there started her dream she had as a child at 7 years old. Dolly has been nominated for a lot of awards at the largest Independent Music Award show in the world, The Josie Music Awards in Nashville and 15 award Nominations at the Red Carpet Awards in Holland for 2021 . She has won Album Of The Year In Los Angeles in 2018 for The Best Of Dolly Dunn, Album Of The Year in 2015 for Cherokee Rose, Song Of The Year for Somebody's Angel. Dolly is also a recognized Song Writer and has written hundreds of songs which also has been recorded by other Artist, including herself. Her latest is two duet's she has recorded with the daughter of George Jones and Tammy Wynette, Ms Georgette Jones. Both duets were written and composed by Dolly herself. She has released 12 albums in 5 years, set to release 4 more, and working on recording two more albums. Dolly is also recording her 4th song written by Canada's own Carroll Baker, who has requested for her to record them and she is very honored as Carroll was her childhood idol. She has performed at Honky Tonks across the US, on the Texas Opry 3 times since 2016, and also sang on stage with Carroll Baker at her concert in NB in 2018. Dolly has many duets out with various Independent Artist from Canada, US, Ireland and Germany. She started a label for Indie Artist TRUE NORTH RECORDINGS CANADA and has many Artist sign. Her label is also nominated for Label Of The Year at the music awards in Holland in Sept 2021. Dolly describe's herself as a very down to earth simple Country singer/Songwriter. Her love of Country Music and her huge fan following of thousands worldwide is the main reason why she continues to do what she has always loved.
---
Colleen Power
FOLK / SINGER-SONGWRITER

Colleen Power is a singer/songwriter, performer and broadcaster living in St. John's, Newfoundland. She is a prolific and creative force in the Newfoundland and Labrador music scene. Always engaging, Colleen comfortably embraces multiple musical styles in both French and English, with lyrics ranging from heartfelt to comedic, political to personal. She is often a Newfoundland ambassador at Francophone festivals and events in Canada, and has released two full-length French albums.
As a broadcaster, Colleen has been featuring local and touring Artists on her show, the Colleen Power Hour on CHMR FM for the past nine years. In 2019 she was awarded the Music NL Media Person of the Year Award.
The Freshwater, Placentia Bay native got a solid start in the music scene with her vocal performance of "Mary Got a Baby" on 11:11 – Newfoundland Women Sing Songs of Ron and Connie Hynes in 1997. The recording later appeared on several other compilations.
Colleen's debut recording, Lucky You Are in 2000 quickly showed that she is one of Canada's finest songwriters. It was Reverb magazine's number one album to buy in Atlantic Canada for 2000. Three songs were featured in CTV's "The Associates" and several tracks received extensive airplay on national and international radio stations. In 2001, Colleen won Music NL Female and Alternative artist of the year and received three East Coast Music Award nominations. The recording was named one of the top ten Newfoundland albums of all time by Alan Doyle of Great Big Sea in The Top 100 Canadian Albums,written by Bob Mersereau.
Colleen's sophomore release, Face and Eyeswon the Music Newfoundland and Labrador 2004 Alternative Artist of the year, received three 2005 ECMA nominations. It was named in the Halifax Chronicle Herald as one of Stephen Cooke's Top Ten albums of 2005. "Na Na Song", the first single, went to number one on the nationally syndicated East Coast Countdown.
In July 2006, Colleen released Terre-Neuvienne, her first full length French CD. She was chosen to represent Atlantic Canada in SACEF's Serie Découvertes at the prestigious Place des Arts in Montreal in January 2007. The first single, "Aucune Idée" spent 10 weeks at number 4 and 5 weeks in the number 5 position in Radio-Canada Manitoba's Top 20 countdown.
Colleen's fourth CD, Rejects, a collection of weird and humorous songs won her MusicNL Alternative Artist of the Year in November, 2009. Videos for "New Townie Man", "Dead Bird in the Garbage" and "Sketchy Jerome" have become youtube phenomena.
In December 2009, Colleen was named Maritime Artist of the Year at Montreal's 'Rendez-vous de la Chanson Vivante', an exclusively Francophone Emerging songwriter showcase.
In August, 2010, Colleen teamed up with the ECMA Award-winning Newfoundland bluegrass band, Crooked Stovepipe to record a children's bluegrass CD, For Little Ones. The CD includes bluegrass versions of children's favorites, Colleen's original songs for little ones and songs by Tommy Sands, Ron Hynes, Malvina Reynolds and Aneirin Thomas. The album won MusicNL 2011 Female Artist of the year, and she shares the award with Crooked stovepipe. For Little Ones was also nominated for a Canadian Folk Music Award.
In Spring 2013, Colleen introduced Le Bonheur Domestique, her second full-length French release and seventh studio album. Like her other albums, the CD features many talented Newfoundland musicians. She reached number one in the top ten at CIVR in Yellowknife with "Heureuse pas Riche", her second release from the album. The first single, "Mes Électroménagers" reached number 1 on CKRA in Quebec City. The album was number 8 on Can-Rock's top ten Francophone albums of 2013. Colleen showcased to rave reviews at the 17th Edition of Francofête en Acadie in November, 2013. She was the only Newfoundlander/ Labradorian to showcase at the International Acadian Congress in August 2014 In Edmunston New Brunswick, its first time in Canada.
Colleen also enjoys performing in The Sauce, alongside Newfoundland rock pioneer, Liz Solo, with Mike Kean. MCP is a another of Colleen's projects, along with Singer/Songwriter Neil Conway. Both projects have released well-received recordings and videos.
With multiple awards, a breadth of experience and extensive song catalogue, Colleen Power is going strong since her 2017 studio album, Raised on This, a collection of traditional Irish, Newfoundland and Celtic songs that are close to Colleen's heart. She was the only Newfoundlander/Labradorian featured on CBC Radio Canada's "5 Degrés", a one-hour television program about Atlantic-Canadian Francophone Artists, which aired in March 2020. She is often commissioned by CBC Radio One NL to write satirical songs about current events. Colleen and her band are currently recording a new album to be released in Winter 2020.

Visit SingSongInc.ca where you can listen to samples and purchase downloads or physical copies of CDs.

Watch the video "The Plague" by Colleen Power band.
Colleen Power | WEB | SPOTIFY | FACEBOOK | INSTAGRAM | TWITTER | YOUTUBE