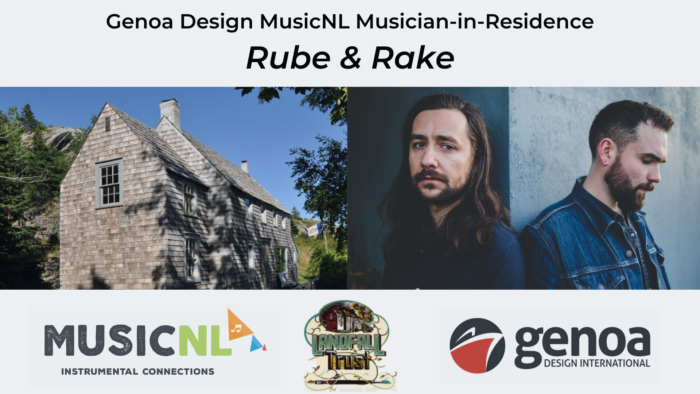 RUBE & RAKE AWARDED GENOA DESIGN MUSICNL MUSICIAN-IN-RESIDENCE
St. John's, NL, Canada – June 7, 2021:  MusicNL has teamed up with the Landfall Trust of Brigus and Genoa Design International to present their first ever musician-in-residence program.
After a competitive selection process, St. John's based folk duo Rube & Rake were selected as the inaugural recipients of the program. The duo will spend two weeks in August at the stunning Kent Cottage in Brigus working on material for their upcoming album, the follow-up to their award winning 2020 release Leaving With Nothing. They will be provided an all-inclusive package as they spend time writing in one of the most inspiring areas of the province.
"We're thrilled to have formed this partnership enabling us to offer such a unique experience to our members", says MusicNL Executive Director Rhonda Tulk-Lane. "Newfoundland & Labrador contains beauty in every nook and cranny, I can't wait to hear how the landscape and culture of Brigus inspires new Rube & Rake material."
During the residency, Rube & Rake will share their incredible talent with the community thanks to an outreach project lead by Landfall Trust.
"We're so happy to help enable the Musician-in-Residence program. This initiative truly uplifts the entire community. During their time at Kent Cottage, Rube & Rake will create a new reason to highlight the cultural landmark as they share their music with Brigus residents and visitors. It's a great example of the purposeful partnerships we strive for." – Gina Pecore, CEO, Genoa Design.
ABOUT GENOA DESIGN INTERNATIONAL
For more than 25 years, Genoa Design International has been providing Digital Ship services (3D modeling, production design, complex integration, and engineering support) to marine and offshore industries across North America. Based in Mount Pearl, Newfoundland and Labrador, Genoa is active in shipbuilding hubs in Vancouver, British Columbia; New Orleans, Louisiana; and Halifax, Nova Scotia.  Genoa takes pride in its employees, customers, and industry partners, and is committed to delivering the highest level of value and quality. Genoa is a leader in continuous improvement and innovation, and through the application of advanced digital technology, is working to transform the shipbuilding industry.
Click here to learn more
ABOUT MUSICNL
MusicNL exists to address key issues affecting the Newfoundland & Labrador music industry in order to implement positive change by presenting a strong voice to government, business and the community at large; increase awareness locally, nationally and internationally of provincially produced music as a unique, creative and viable industry with significant impact on the economy; and create and encourage opportunities for our membership that will stimulate growth in the industry.
Click here to learn more
ABOUT LANDFALL TRUST BRIGUS
Landfall Trust is a registered charity established in 2005 through the legacy of the late Bradley Jacob Folensbee, Jr. (Jake).
The Trust owns and oversees the undeveloped 11-acre Landfall preserve and maintains the 200-year-old Kent Cottage, a provincial heritage site in the coastal community of Brigus, Newfoundland and Labrador. In keeping with the tradition of artists living at Landfall, the Trust provides a total of 10 weeks of residencies for artists every year.
Click here to learn more
ABOUT RUBE & RAKE
Rube & Rake's new album begins with an ode to family and friends— togetherness—as Josh Sandu declares, against a hopeful bluegrass backdrop, "somewhere there's a place to lay my head." Nine songs later, over a gently plucked guitar, he sings, "I won't go picking it up, the weight of the page is just too much."
The collection of 10 songs comprising Leaving With Nothing fits comfortably in the folk tradition of road-worn tales and lost love laments told across an ever-changing, often lonely landscape. Rube & Rake is for late-night wind-downs, long drives, a walk by the water: solitary and steadfast, honest and true.
Click here to learn more