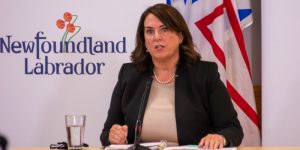 MusicNL Pleased with Budget 2021
ST. JOHN'S NL – MusicNL applauds governments focus on becoming more accountable with the people's money while investing wisely in those devastated by the global pandemic.
MusicNL is pleased to learn about the new Artist Support Program, a component of the new Tourism and Hospitality Program ($30 million) in Budget 2021. As well, a new accountability framework, a framework that will ensure community groups that receive funding, such as MusicNL, spend the public's money wisely and that programs & services are evaluated to ensure the best return on investment.
"The tone set in the provincial budget by the Honourable Siobhan Coady, Minister of Finance, was welcomed by MusicNL. It feels good to see government invest in artists, a group that was devastated by the global pandemic," stated Rhonda Tulk-Lane, Executive Director of MusicNL.
Pre-pandemic the music sector contributed $51.5million to the GDP, both directly and indirectly. Investments in the music sector is money well spent and we thank the Government of Newfoundland and Labrador for their continued investment in the music sector.